Author: Nick Lane, Chief Insight Analyst & Founder
The next major platform for brands to invest in is messaging. Brand spend on messaging will soon overtake their social media spend, and in order to describe the vast messaging opportunity and how brands will need to understand consumers' messaging behaviour and meet their customers in their platforms of choice, Mobilesquared has coined the phrase the Messageverse*. The Messageverse is a term that embraces the array of messaging platforms that are already being used to connect businesses with their customers. But these are early days, with the business messaging industry yet to blossom.
While companies have long predicted the demise of SMS as a channel used by brands with their customers, Mobilesquared's view has always been "you ain't seen nothing yet". What we've seen in terms of brand spend on messaging is just the tip of the iceberg, and we are only at the start of this journey.
It's well journaled that brand spend follows consumers. It was true when print was the go-to platform of choice, before it was supplanted by radio, radio was then succeeded by TV, and TV ousted as the go-to channel by the internet. Most recently, social media has attracted the biggest brand spend, but this is set to be replaced by messaging. Or as we're calling it, the Messageverse.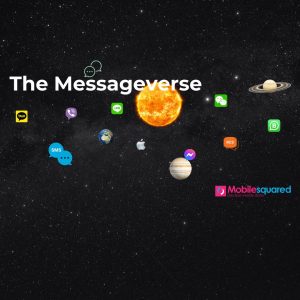 So why is The Messageverse so important? At the end of 2022 there will be a total of 5.55 billion users in The Messageverse. There is no other platform with such reach. All other channels crave this level of ubiquity. What's more no other channel can compete in terms of effectiveness or interactivity with the speed of messaging.
The majority of any messages sent as part of a campaign are read within minutes. In fact, 90% of all messages were read within 3 minutes – according to our ground breaking research first published in 2010, and still the most-used stat in mobile marketing.  But the world has moved on since then, and although its performance has dropped since then, as you would expect in an ever more cluttered customer comms landscape, it still smashes all other channels out of the park. Anyway, back to The Messageverse.
Of course these 5.55 billion people of The Messageverse are SMS users. But The Messageverse also includes 4.5 billion rich messaging users. WhatsApp accounts for the majority of rich messaging users, with a total of 2.73 billion, but this is only 49% of users within The Messageverse.
Facebook Messenger has 1.9 billion users and accounts for 35% of The Messageverse. WeChat will have 1.35 billion users by the end of the year, and will remain ahead of RCS which will have 1.24 billion users.
So The Messageverse is the world's largest and most vibrant community thriving on engagement and interaction. Not surprisingly then that it's a major component of CPaaS. Based on Mobilesquared's data The Messageverse accounted for 77.71% of total brand spend on CPaaS in 2020 and 66.15% this year.
We're going to be hearing a lot about The Messageverse moving forward. It is here to stay.
*The Messageverse includes SMS, MMS, WhatsApp, RCS, WeChat, Line, KakaoTalk, Facebook Messenger, Apple Messages for Businesses, Telegram, Signal, and all other messaging platforms that remain active, and also those platforms of the future yet to be conceived. All messaging platforms are welcome in the Messageverse!
Get in touch with Nick at nick@mobilesquared.co.uk.
Explore more of our business messaging intelligence and free messaging research resources on our website.