Much has been made of RCS (Rich Communication Services) in recent months. It has taken more than 10 years to get off the ground, and still only has around 170 million subscribers. It has continually been written off, viewed as "on the ropes" taking negative metaphorical punch after punch, yet it's still here and now facing a very healthy upward trajectory.
Rather than being punched in the googles, it is Google that has punched life into this messaging channel, working with the mobile operators (in close association with the GSMA), to develop a messaging channel, that will not only rival alternative messaging apps like WhatsApp, Viber, Facebook Messenger, but will take messaging beyond SMS 2.0 to App 2.0 too.
In short, RCS will evolve existing SMS functionality on mobile devices into an engaging and interactive channel exceeding the functionality of WhatsApp, combined with the richness of an app.
Mobilesquared research data already reveals that nearly 50% of mobile users would be active RCS users, i.e. they would engage and interact with a brand. This figure smashes interaction levels on other channels, and RCS is only getting started.
So if the above stat isn't enough for a brand or enterprise to invest in RCS, what other reasons would encourage a brand to not only invest in RCS, but even shift it's spend from other channels like an app, onto RCS?
RCS evolves SMS functionality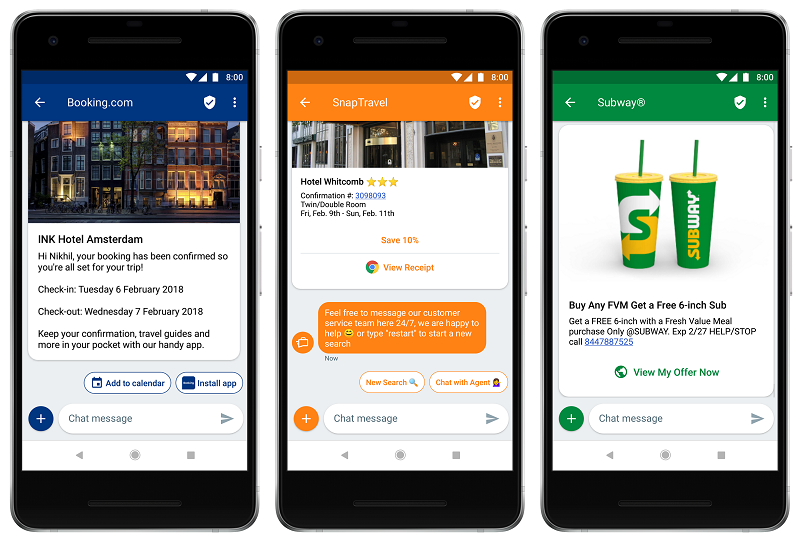 For a major brand, a typical app costs £400,000 to develop, market, and conduct ongoing maintenance on. But the app download and usage stats do not bode well when it comes to generating a return on investment (ROI) on that £400,000. If, for example, that brand were to invest £400,000 in RCS, it would cost (an estimated) £20,000 to set up, integrate and deploy its RCS platform, leaving £380,000 to invest in customer engagement and interaction. Ultimately this investment could deliver on average 6.3 million customer interactions.
Mobilesquared data also reveals that around 6% of RCS interactions will be transactional. If we say that the average purchase is £15, then from that initial £400,000 investment, the brand would drive revenue of £9.5 million, delivering an incredible ROI.
And that does not include operational savings from other areas within the company.
Beyond promotional and marketing based communications, RCS will also be used for customer support to resolve an issue. Aside from the fixed or operational costs of running a call centre, if we do a like-for-like comparison of 1,000 customer enquiries into a call centre lasting 10 minutes (@ £1 per minute), would cost £10,000. If these issues could be resolved by a chatbot on RCS, it would cost around £60 and would represent a direct saving of approximately 99%.
This is why brands are now taking RCS seriously. And why Mobilesquared is running an RCS Workshop in London in October to educate brands and enterprises on how they can develop their RCS strategy.
Mobilesquared has teamed up with the Mobile Ecosystem Forum (MEF), and the Internet Advertising Bureau (IAB), to create an insightful RCS Workshop for the UK market, to enlighten, inform, and educate brands and enterprises on why they need to develop an RCS strategy,  with brand case studies, expert insight from RCS solution providers, and Mobilesquared's granular UK mobile market data on the RCS opportunity.
The UK RCS Workshop is free to attend for brands, agencies and operators. Contact us to register or request more details.